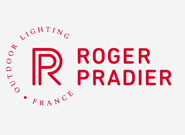 Since 1910, a timeless leader in outdoor lighting.
Designed and made in France.
Belcour Model 9 Wall Light
Product Code:
8R106015xxx
Light source:
1 x E27 60W (max)
Materials:
Aluminium. Clear or Frosted glass.
Dimensions:
L: 320mm x H: 385mm x W: 466mm
Brand: Roger Pradier
External wall light available in various colours and other variations (price may vary). IP44 rated. Designed andmade in France.
RELATED ITEMS
Brick2 Model 1 Wall Light

Aubanne Model 1 Wall Light

Bamboo Model 3 Bollard Light