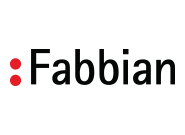 Fabbian illuminazione is a manufacturer of lamps offering new trends to modern lighting design, lamps and chandeliers, thanks to a large group of international designers.




Polair F36 Pendant
Product Code:
6FF36A01 00
Light source:
10W LED (Built-In) | 3000K | 920lm
Materials:
Aluminium, glass
Dimensions:
Ø 335mm x H 300mm | 2000mm Cable Suspension
Brand: Fabbian
Polair captures the light's magic and was created with the intention of providing an almost physical presence to its invisible rays. The lighting angle is perfectly designed to meet the diffuser which then emphasizes the reflections, creating fluctuating emotions. Polair is a transparent pendant lamp with elegant detailing in sandblasted glass, ideal for enhancing any indoor living area, in the home or workplace.
Rated IP40 suitable for indoor use.
Dimmable with PUSH, 1-10V
Designed by Flynn Talbot & made by Fabbian in Italy.