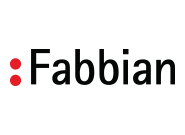 Fabbian illuminazione is a manufacturer of lamps offering new trends to modern lighting design, lamps and chandeliers, thanks to a large group of international designers.




Olympic 80cm Pendant
Product Code:
6FF45A21 01
Light source:
48W LED (Built-In) | 3000K | CRI90+ | 4475lm
Materials:
Aluminium, Plastic
Dimensions:
Ø 802mm x D 20mm | 4000mm Cable Suspension
Brand: Fabbian
A self-contained light ring with an aerial shape, inspired by the Olympic rings. A single ring can illuminate the environment by projecting its light as if moved by centrifugal force. Olympic is a collection of round, aluminum pendants, wall and ceiling lights. The LED light source is located on the outer ring, which is available in different diameters, creating direct and indirect light diffusion.
Rated IP40 suitable for indoor use
Dimmable with PUSH, 1-10V, DALI
Designed by Lorenzo Truant & made by Fabbian in Italy