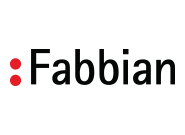 Fabbian illuminazione is a manufacturer of lamps offering new trends to modern lighting design, lamps and chandeliers, thanks to a large group of international designers.



Loop F35 Pendant
Product Code:
6FF35A01 00
Light source:
1 x 17W | 3000k | CRI 80+ | 240V
Materials:
Metal, Glass
Dimensions:
Ø 450mm x H 100mm | 2000mm Cable Suspension
Brand: Fabbian
Loop is a "dancing" lamp that hovers in the air with grace and elegance, exerting a charm through the movements of its forms. The fine and delicate glass makes it seem lightweight with an essence of flight. This collection is perfectly suited to most environments and can enhance classical or modern styles, providing a refined but unique look.
Rated IP20 suitable for indoor use.
Dimmable with TRIAC dimming.
Designed by Constance Guisset & made by Fabbian in Italy