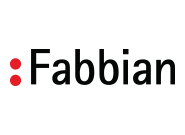 Fabbian illuminazione is a manufacturer of lamps offering new trends to modern lighting design, lamps and chandeliers, thanks to a large group of international designers.
Claque 235 Ceiling Light
Product Code:
6FF43E03 01
Light source:
1 x 20W | 3000k | 1700lm | 240V
Materials:
Aluminium
Dimensions:
H 235mm x Ø 100mm
The ceiling lamp Claque is a technical lighting fixture that guarantees great performances in terms of light output. It is especially suitable in modern environments like work and office spaces. It is also functional and practical for the lighting of restaurants and retail stores. The ceiling light can be either fixed or adjustable.
IP40
Dimmable
Designed by Marc Sadler & Made in Italy