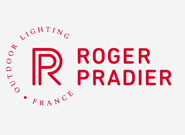 Since 1910, a timeless leader in outdoor lighting.
Designed and made in France.




Lampiok 4 Model 1 Wall Light
Product Code:
8R175201110
Light source:
1 x 35W LED | 3000K | 2720lm
Materials:
Aluminium, PMMA
Dimensions:
H 883mm x W 452mm x D 720mm
Brand: Roger Pradier
Inspired by the emblematic four-sided lantern, the Lampiok collection from Roger Pradier® is offered in a variety of colours, with purposely monochrome grey support detail, letting the lantern frame shine forth.
Available in other sizes, wattages and colours (price varies).
A 25 year anti-corrosion guarantee is provided on the powder coated Aluminium finishes.
Rated IP65 suitable for outdoor use.
Designed by Stéphane Joyeux and made in France.
RELATED ITEMS
Lampiok 1 Model 5 Wall Light