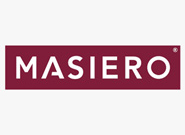 A stunning, eclectic collection featuring traditional ranges and modern statement pieces.
Designed and made in Italy.
Nappe C5 Light Pendant
Product Code:
2MNAPPEC5
Light source:
25W Fixed LED | 3000k | 3750lm
Materials:
Metal, glass
Dimensions:
Ø75mm x H 390mm x L 2350mm.
Brand: Masiero
Five cluster pendant light, available in all white or set mixed colours. Overall dimensions are variable depending on installation. Also available in a three or ten set cluster, wall light or independently (price varies). Designed by Marco Zito. Design and made in Italy.